Tour overview
Sri Lanka, formerly known as Ceylon, and officially the Democratic Socialist Republic of Sri
Lanka, is an island country in South Asia. It lies in the Indian Ocean, southwest of the Bay of
Bengal, and southeast of the Arabian Sea; it is separated from the Indian subcontinent by the
Gulf of Mannar and the Palk Strait.
Sri Lanka is one of the most exotic getaways in the world. Surrounded by the azure Indian
Ocean, this island paradise has contrasting landscapes, stretches of golden sandy beaches and
a wealth of wildlife and culture to discover. It is home to 8 UNESCO World Heritage Sites, 15
national parks showcasing spectacular wildlife and nearly 500,000 acres of lush tea estates.
The island is blessed with waterfalls, rivers, jungles, rain forests and fertile lands for an
abundance of rice fields. Sri Lanka is a year-round destination. The best time to experience the
south-west coast, where most beach resort are found is from November to April.
The ancient city areas as well as the eastern coastal regions are usually visited from April to
September, whilst the central highlands are pleasant and cool from January to April. Sri Lanka
is world's tea capital, where the famous Ceylon Tea grows in the central highlands. Although
the hill country is a few hours away from the rest of the country, it is a striking contrast to the
general landscape. Here, there are imposing mountain vistas all around, plunging waterfalls,
misty hill tops, sloping green valleys and stunning plains. It has the perfect altitude to grow
some of the finest tea in the world and has a number of tea estates stretching far and wide.
The north central province of the country is a treasure trove of ancient cities, monuments, ruin
of palaces, temples and preserved Buddhist stupas. It contains two thirds of the Cultural
Triangle of Sri Lanka, an area marked with heritage sites of paramount interest.
There are many places of religious significance including the Enlightenment Tree. The south-
west, south and eastern coasts of Sri Lanka have a remarkable tropical coast. Discover the
'surfing capital of the world' at Arugam Bay, whale and dolphin watching at Mirissa,
watersports at Tangalle, an old sea fort at Galle and scuba diving at Hikkaduwa. Be spoilt for
choice on your beach holiday in Sri Lanka with sun, waves, sights and aquatic pleasures.
Included
Transportation by private AC car
English speaking chauffeur guide
Water bottles
Not Included
Accommodation
Food & beverages
Entrance tickets
Day 01 : Negombo
Negombo is a city on the west coast of Sri Lanka, north of the capital, Colombo. Near the waterfront, the remains of the 17th-century Dutch Fort now house a prison. Negombo Lagoon, lined with fishermen's huts, feeds into the Dutch-era Hamilton Canal. The canal leads south to Colombo. Neoclassical St. Mary's Church, completed in the 1920s, features a ceiling decorated with vivid religious paintings.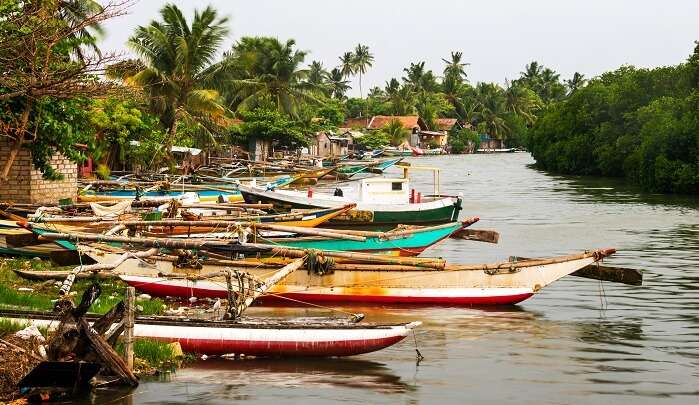 Day 02 : Sigiriya
Sigiriya or Sinhagiri is an ancient rock fortress located in the northern Matale District near the town of Dambulla in the Central Province, Sri Lanka. It is a site of historical and archaeological significance that is dominated by a massive column of rock approximately 180 metres high.
Dambulla cave temple also known as the Golden Temple of Dambulla is a World Heritage Site in Sri Lanka, situated in the central part of the country
Pidurangala Vihara is an ancient Buddhist temple situated in Pidurangala village of Matale District, Sri Lanka. The temple was constructed on a massive rock called Pidurangala, which is located a few kilometers north of the historical fort Sigiriya.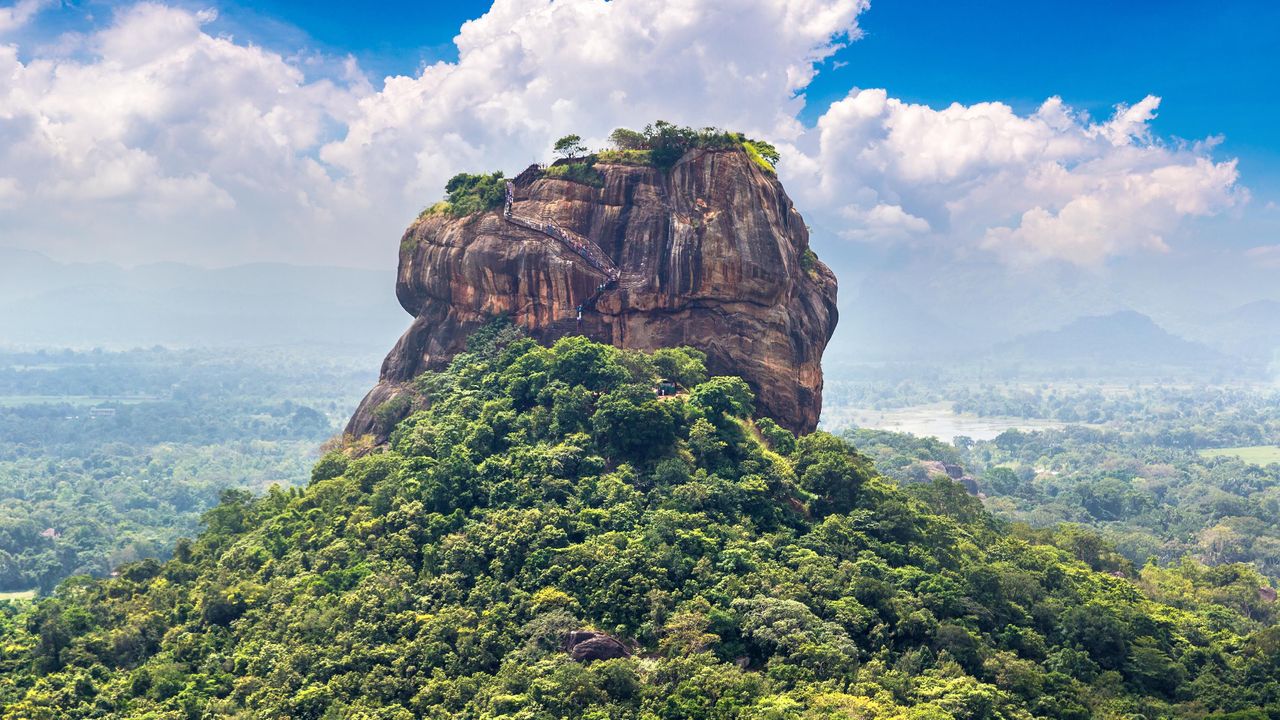 Day 03 : Kandy
Kandy is a large city in central Sri Lanka. It's set on a plateau surrounded by mountains, which are home to tea plantations and biodiverse rainforest. The city's heart is scenic Kandy Lake (Bogambara Lake), which is popular for strolling. Kandy is famed for sacred Buddhist sites, including the Temple of the Tooth (Sri Dalada Maligawa) shrine, celebrated with the grand Esala Perahera annual procession.
Natural Gems and Gemmological Museum is located in Kandy. Put Natural Gems and Gemmological Museum into our Kandy road trip planning app to see other points of interest to visit during your vacation in Kandy.
When visiting the spice garden, you will discover the different types of herbs and spices of Sri Lanka's pride, its uses and benefits. Learn how the spices are produced from its growing methods to its harvest. With an ambience of solitude and peace, you get close to nature. Since most spices cannot be grown in a single garden due to its different soil and climate requirements, they are grown in separate individual areas. Therefore tour guides are on offer for the guidance and exploration for each garden.
Try out amazing meals prepared with the spices that you would love to taste. Opportunities for purchase on various products made with the spices are available which can be either natural cosmetics or traditional herbal remedies. Some gardens offer ayurvedic massages with oils made with the herbs and spices for complete rejuvenation and relaxation which could be ideal for the tired visitor.
Day 04 & 05 : Nuwara Eliya
Nuwara Eliya is a city in the tea country hills of central Sri Lanka. The naturally landscaped Hakgala Botanical Gardens displays roses and tree ferns, and shelters monkeys and blue magpies. Nearby Seetha Amman Temple, a colorful Hindu shrine, is decorated with religious figures. Densely forested Galway's Land National Park is a sanctuary for endemic and migratory bird species, including bulbuls and flycatchers.
Lake Gregory, sometimes also called Gregory Lake or Gregory Reservoir, is a reservoir in heart of the tea country hill city, Nuwara Eliya, Sri Lanka. Lake Gregory was constructed during the period of British Governor Sir William Gregory in 1873. The lake and the surrounding area make up the Gregory Lake Area.
Victoria Park is a public park located in Nuwara Eliya, next to the Nuwara Eliya Post Office in Sri Lanka. Originally the park was the research field of Hakgala Botanical Garden. The park was formally named in 1897 to commemorate Queen Victoria's Diamond Jubilee.
Seetha Amman Temple is located approximately 1 kilometre from Hakgala Botanical Garden and 5 kilometres from Nuwara Eliya. The temple is located in the village of Seetha Eliya.
Divurumpola near Welimada in Sri Lanka's central highlands has a Buddhist temple with a stupa, which has become a major Hindu pilgrimage site in recent years, as Divurumpola is said to be the location where Sita, consort of Rama, underwent the famous fire ordeal which is known as Agni Pariksha.
Day 06 & 07 : Train trip to Ella
Ella is a small town in the Badulla District of Uva Province, Sri Lanka governed by an Urban Council. It is approximately 200 kilometres east of Colombo and is situated at an elevation of 1,041 metres above sea level. The area has a rich bio-diversity, dense with numerous varieties of flora and fauna.
Ravana Falls is a popular sightseeing attraction in Sri Lanka. It currently ranks as one of the widest falls in the country.
The Nine Arches Bridge also called the Bridge in the Sky, is a viaduct bridge in Sri Lanka. It is one of the best examples of colonial-era railway construction in the country. The construction of the bridge is generally attributed to a local Ceylonese builder, P. K. Appuhami, in consultation with British engineers.
Diyaluma Falls is 220 m high and the second highest waterfall in Sri Lanka and 361st highest waterfall in the world. It is situated 6 km away from Koslanda in Badulla District on Colombo-Badulla highway. The Falls are formed by Punagala Oya, a tributary of Kuda Oya which in turn, is a tributary of Kirindi Oya
Day 08 : Mirissa
Mirissa is a small town on the south coast of Sri Lanka, located in the Matara District of the Southern Province. It is approximately 150 kilometres south of Colombo and is situated at an elevation of 4 metres above sea level. Mirissa's beach and nightlife make it a popular tourist destination.
Unawatuna is one of the biggest tourist destinations in Sri Lanka and is the most "famous" beach in the country. It is a lovely banana-shaped beach of golden sand and turquoise water, surrounded by green palm trees!
It was the first beach we visited in Sri Lanka. We chose not to stay at one of the fancy and expensive hotels along the beach of Unawatuna, but a few kilometers away at a guesthouse. We walked to the Unawatuna Beach on two separate day trips.
Galle Fort, in the Bay of Galle on the southwest coast of Sri Lanka, was built first in 1588 by the Portuguese, then extensively fortified by the Dutch during the 17th century from 1649 onwards
Day 09 & 10 : Bentota
Galle Fort, in the Bay of Galle on the southwest coast of Sri Lanka, was built first in 1588 by the Portuguese, then extensively fortified by the Dutch during the 17th century from 1649 onwards
Madu Ganga is a minor watercourse which originates near Uragasmanhandiya in the Galle District of Sri Lanka, before widening into the Madu Ganga Lake at Balapitiya. The river then flows for a further a 4.4 km before draining into the Indian Ocean. It is located 88 km south of Colombo and 35 km north of Galle.
The hatchery in Galle has outer walls covered with themed murals portraying vibrantly coloured turtles. Inside, you will find a series of turtle preservation tanks. Every tank is accompanied with a precautionary sign board for visitors. The tourists visiting the hatchery are regularly guided through a live demonstration of depicting the entire life-cycle of sea turtles and their conservation period. The place functions as daycare for all those newborn sea turtles who opened their eyes here for the very first time. The hatchery homes to several small water tanks for protecting these newly born sea turtles.